What is Incuba UDD?
UDD program that seeks to provide support for students, alumni and their work teams, who wish to start or already have a business running, oriented to provide guidance, tools and a series of resources and services to launch, develop and enhance your project during a semester. The program supports all kinds of enterprises and in any of its stages.
Incuba UDD is a program that offers a wide range of tools among which you can find; videos from the UDD Entrepreneurship Academy, webinars, panels, tutorials, as well as access to contact networks. It is an academic program that bases its teaching model on the "Lean startup" methodology.
Who can apply
This program is open to students from all majors, from international universities that have a current bilateral agreement with UDD, that have an idea of ​​entrepreneurship or a business in progress where there is at least one member who is a student. In the event that a team has external integrators to UDD, they can also participate in the program.
How to apply
Applications will be through an online form that will be available at the beginning of each semester.
Program modality
The program lasts 3 months and consists of the following elements:
Videos from UDD's Entrepreneurship Academy
Incuba UDD program contemplates 36 videos within 11 modules from the UDD's Entrepreneurship Academy, held on the Canvas platform, which develops through a theoretical approach of the relevant elements to develop and enhance your startup, these videos must be viewed before the corresponding webinars. There are mandatory videos, supplementary material (videos and readings) and a final evaluation. The main objective is to discuss any doubts to be resolved in the webinars with the teacher.
Webinar classes:
After the theoretical approach of the videos from UDD's Entrepreneurship Academy, you will be able to attend the webinars where you can deepen the contents and interact with the teacher, the other teams, and projects that make up Incuba UDD. Teachers will be able to give you specific recommendations for your project, as well as being able to ask questions directly and interact with your classmates. Before connecting to the class webinar, you must have seen and completed the associated videos and quizzes, hosted on Canvas.
Tutorials:
A tutor will be assigned to each team, who will guide and recommend the best plan of action to obtain results in the short and long term. The program includes the realization of at least 5 tutorials, which will last approximately 1 hour per session. The meetings with your tutor who will be assigned to you after the initial panel, can be held online, through the platform that best suits both you and the tutor (Hangouts, Skype, Zoom).
Panels
There will be an initial, intermediate and final panel, where each team must present developments of their project. The jury of each panel will be entrepreneurship experts who will give the feedback and will evaluate you from a grade of 1,0 to 7,0. You must obtain a grade higher than 4,0 to pass the panel and be able to continue in the program.
Networking activity
There will be an instance after the intermediate panel to share experiences, suggestions, contacts and feedback among the students of the program.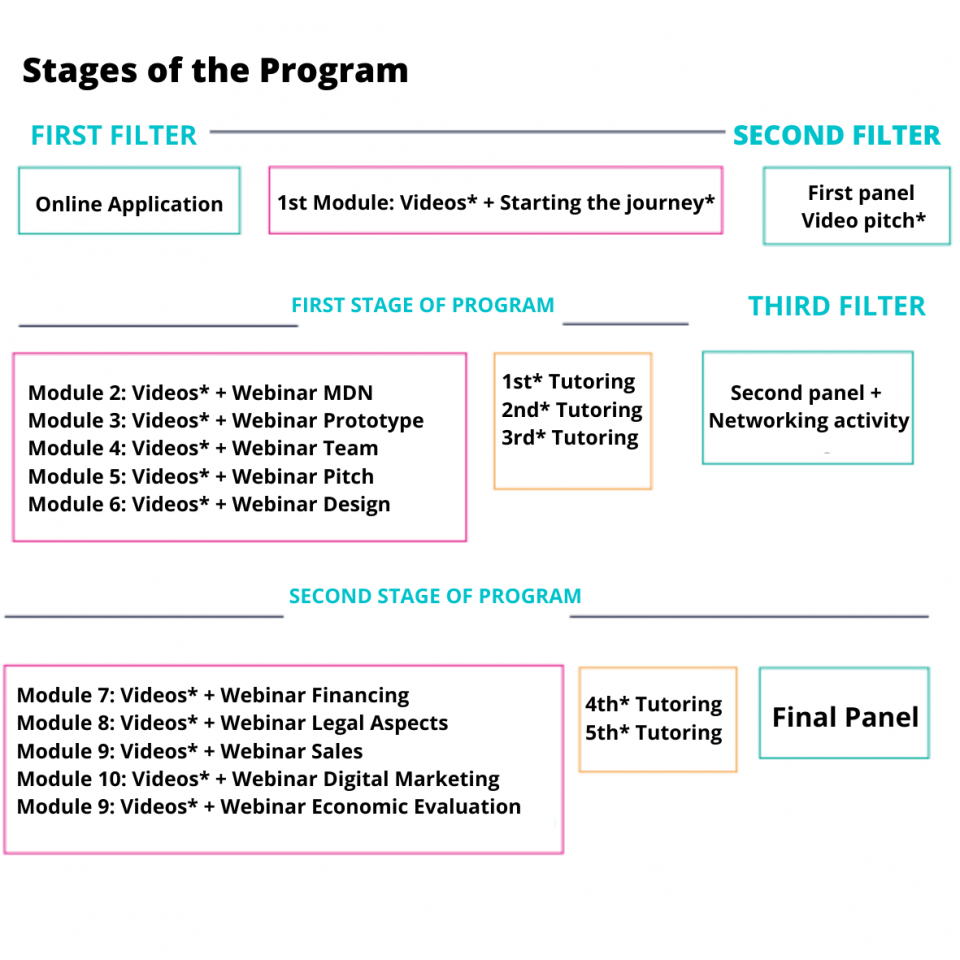 THE MODULES CONSIST OF:
Online Videos from UDD's Entrepreneurship Academy, some of which are compulsory and others complementary.
Webinars where what is seen in the videos will be applied and you can solve any doubts.
* Mandatory activities
Program rules
To pass the program and receive the participation diploma, you must comply with:
Each team must have seen the mandatory videos associated with each webinar (regardless of whether or not they attend the webinar). Compliance with this point will be verified through the CANVAS platform.
Each team must attend at least 7 webinars (4 in stage I and 3 in stage II).
Attend 100% of the tutorials.
Approve each of the panels In which you presented.
To be able to present in the intermediate Panel: you must have seen all the compulsory videos per module, 4 webinars and 3 tutorials.
To be able to attend the final Panel: you must have seen all the compulsory videos per module, 7 webinars and 5 tutorials.
Those who wish to validate Incuba UDD must comply with:
Seeing all the mandatory videos corresponding to each module.
Attend at least 7 webinars (4 in stage I and 3 in stage II)
Attend 100% of the tutorials
Approve each of the panels on which they present.
Questions
For any questions related to the program write to:
Laura Fernández, ljfernandez@udd.cl in Santiago.
Carlos Mancinelli, cmancinelli@udd.cl in Concepción.
For more information, visit https://incuba.udd.cl/
INCUBA UDD PROMOTIONAL VIDEO